The University of Maryland Baltimore County men's basketball team put its program on the map four years ago with the biggest March Madness upset in history.
UMBC used a strong second half to oust the top-seeded University of Virginia from the first round of the tournament. It was the first time in NCAA men's basketball history that a No. 16 seed defeated a No. 1 seed.
Most March Madness upsets are won by a buzzer-beater at the end of a close game. However, UMBC scored 53 points in the second half to pummel Virginia by a final score of 74-54. It was arguably one of the greatest moments in Maryland March Madness history.
The 2022 March Madness tournament is set to get underway next weekend. Are there any teams that could repeat what the Retrievers accomplished in 2018?
Looking at the top seeds
Guessing which program has the best chance of a long shot win is just as much about picking which top seed is most vulnerable.
Gonzaga locked up the tournament's No. 1 overall seed Tuesday night with a conference championship win over St. Mary's. But the other three top spots are still up for debate.
There are a few discrepancies between college basketball experts as to which programs will get the other three. But it looks like it will be some combination of Arizona, Kansas, Auburn and Baylor.
It's unlikely that the nation's top team would lose in the first round, but Virginia was the No. 1 overall seed in 2018. So, nothing is out of the question.
Of the other three teams, Arizona is the only program that seems like a unanimous No. 1 seed among the experts. The Wildcats posted a dominant 28-3 record with two of its three losses coming against nationally-ranked opposition.
However, the Wildcats are typically involved in high-scoring affairs and play very average defense. They averaged 84.7 points per game and give up 66.7 points per game. All three losses came when their offensive production was below their average output.
I think a cold-shooting night from the Wildcats is the most likely scenario in which we see another UMBC-like victory.
A look at the possible No. 16 seeds
We are working with incomplete information here. There are still several conference tournaments that need to be completed and the committee won't choose the field of 68 until this Sunday.
Luckily for us, ESPN's Joe Lunardi has been projecting the final bracket for a living since I was in diapers.
Lunardi is projecting a "First Four" matchup between Bryant University and Wright State. The winner will get the right to play Arizona in the first round.
He is also projecting a First Four matchup between No. 16 seeds Nicholls State and Alcorn State. Neither team won their conference tournament yet, although both are top seeds.
He rounds out bottom seeds with the University of Delaware and Norfolk State. Delaware won the Colonial Athletic Association tournament with an upset of UNC-Wilmington. Norfolk State is the favorite to win the MEAC tournament but is awaiting its semifinal opponent.
Both Wright State and Bryant punched tickets to the Big Dance by winning their conference tournaments. I'm going to focus on this matchup because I think the best chance of a historic upset comes from these two teams.
Bryant embarrassed Wagner University last night in the Northeast Conference Championship by a 70-43 final. The Bulldogs' star player, Peter Kiss, scored 34 points in 38 minutes during the rout.
The 6'5" senior guard is a polarizing figure for his antics on the court. But his scoring ability can't be denied. He averaged 25.1 points per game while shooting 45.6% from the field and nearly 30% from behind the arc.
The New Yorker was the main catalyst behind Bryant's 22-9 record and will be the key to a March Madness upset.
On the other hand, Wright State was an underdog to even get into the tournament. I'm picking Bryant to move on and face Arizona.
Can Bryant University pull off a March Madness Upset?
The short answer is "it's highly unlikely." But Kiss reminds me of a poor man's Wally Szczerbiak.
Remember that guy? The Miami University (OH) basketball standout who averaged like 86 points per game.
OK, I'm exaggerating a bit. He averaged 24.2 points per game in his senior season and led the Redhawks to the Sweet 16 as a No. 10 seed. Szczerbiak ended his career as Miami's all-time leading scorer and was drafted sixth overall by the Minnesota Timberwolves in the 1999 NBA draft.
Do I think Kiss will end up as a first-round draft pick? No. But I could easily see him leaving a lasting memory on the college basketball world.
Based on his on-court antics, he clearly has a chip on his shoulder.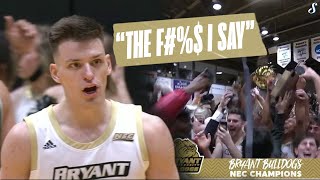 He was a zero-star recruit out of Notre Dame Prep in New York. And Bryant is the third different Division I college program he played for.
Those are the kinds of players that want nothing more than to beat the major programs that passed up on them.
If there was going to be a repeat of the UMBC upset, I think it has to come with a Bryant victory. It would be what the sports betting world calls a "trap game."
Arizona could come out flat and without energy, assuming an easy win over a small school from Rhode Island. If that lack of energy is met with a strong performance from the Bryant guard, it could spell disaster for the squad from Tuscon.