Maryland's Alloy Sports co-founders weren't sure what to expect when they entered the Polsky Center's New Venture Challenge earlier this year.
One of the top-ranked accelerator programs in the country, the New Venture Challenge has helped launch companies such as Grubhub. Overall, the annual competition, through the University of Chicago's Polsky Center for Entreupernship and Innovation, has helped launch over 370 companies that are still in business today.
Out of 62 applicants, Alloy Sports was selected as one of 30 teams to continue in the competition. While the Baltimore-based sports betting startup was unable to win the hotly contested competition, Alloy Sports finished in a tie for 10th place, earning it $10,000.
"Just to be in the finals, to have that exposure is huge going forward," said Bradley Kronthal, COO of Alloy Sports.
What is Alloy Sports?
Bradley Kronthal, Spencer Kronthal and Seth Sholk, all of Pikesville, centered Alloy Sports on the idea of letting users pick a metric they believe matters the most in any given game. Their algorithm shows bettors how teams perform against the spread or straight up, among other things, when one is focused on selected criteria.
"Our platform lets you build and test your own custom sports betting strategies in three simple steps," the company's website states. "Combine different stats you think lead to winning to create your metric, filter out games that don't fit your criteria, and find profitable upcoming games to bet on that fit your strategy."
When it comes to making a pitch for the company, Spencer Kronthal has it down at this point. He sees Alloy as a "one-stop-shop for sports betting, where you can come in and do your own transparent accurate research with your own strategies."
As it says on the company website, Spencer and company value "transparency and user control over everything."
"We are trying to build a product that is actually for the bettor, for the fan in a market that typically is not," Spencer said.
Meet the Alloy team
As an engineer at Stanley Black & Decker in Towson, Spencer Kronthal first thought of the idea. It was in this previous profession he noticed how different materials were tested, placing emphasis on certain areas. The thought then became how this technique could transfer over to sports.
This is where Spencer's brother, Bradley, comes into play. Bradley worked as a former intern with ESPN and WBAL-TV in Baltimore. Most recently, he was with Monumental Sports.
In between, however, Bradley was working with MASN as an associate producer from 2016-2020. The connections made at this job really helped the company get off the ground.
One of those connections was Mike Bordick, a 14-year MLB veteran who spent six with the Baltimore Orioles. Bordick was a broadcaster on the network in which Bradley produced, so he figured, why not take a shot?
"I approached him as we were building out the platform and he loved it," Bradley said.
Bradley cited Bordick's "deep understanding of the in-game analytics that continue to grow" as a reason why the former pro would eventually come on as an investor.
The Kronthal brothers decided to combine their experience with that of the company's CFO in Sholk, who worked for Capital One as a data analyst. From there, the company boasted a solid foundation to build off.
A unique algorithm
Initially named Fanalysts, the company was created to record player development. They repurposed engineering software to focus on certain attributes that would help professional teams find both breakout players and those more prone to injury. After meeting with former front office executives, they saw an advantage to a direct-to-consumer product, focused on fantasy sports.
Soon afterward, states started adopting sports wagering, and Alloy saw a perfect audience for its algorithm and mission statement. The thought was "this applied even better" than attempting to work with teams and organizations.
The hope is to "become that pipeline for sports betting," Spencer said, "where if you are doing research with us, the traffic flows from us to the sportsbooks."
The Alloy Sports Platform
As a research website, bettors can test their theories by gathering intel from the most recent NBA season. (Alloy only has NBA data available at the moment, but the plan is to add more sports moving forward.)
Do you believe that offensive rebounding is a powerful stat? What about those teams coming off a loss? Alloy will tell you how those teams have done during the season with those specifics so you can determine if it's a worthwhile data point.
Users today can select their betting amount and timeframe, as well as a list of NBA stats and positions to see how teams fare in various roles. Some of those are:
Slight favorite (0 to -5)
Slight underdog (0 to +5)
Heavy favorite (greater than -5)
Heavy underdog (greater than +5)
After making your selections, a graph is created to show win percentage, projected earnings and return on investment on any particular bet.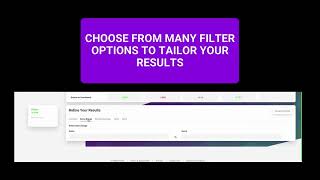 Spencer's plan is to "create a system so powerful even the experts will want to use it. But that's so accessible and easy to use that anybody can hop on it and become a more profitable sports bettor." He also wants it to become the "industry standard for research. If you don't come to Alloy before you bet … then you skipped a step."
On Maryland betting
When it comes to Maryland mobile betting, Alloy Sports is ready to add a new and local audience.
"(We have) an exciting opportunity ahead of us," Spencer said.
If Maryland can launch mobile betting for the NFL season, the timing would be ideal for Alloy. The company expects to have NFL data available and a mobile app ready to go at some point this fall.
Currently, Marylanders are waiting for the state to complete its disparity study to move forward in the process. The study is meant to highlight any barriers minority- or women-owned businesses may face trying to break into the space.
Once the study is complete, we'll have a much better idea of when Maryland may welcome mobile sports betting.